West Ham United co-chairman David Gold has died at the age of 86 after a brief illness.
A lifelong fan of the Hammers, the club said he passed away "peacefully" on Wednesday morning with his fiancée and daughters by his side.
Gold, previously the chairman and part-owner of Birmingham City, became co-chairman of West Ham with David Sullivan in 2010.
"I am extremely saddened to hear this news," manager David Moyes said.
"On behalf of all the players and my staff at the training camp, I would like to extend our deepest condolences to the family of David Gold at this very difficult time.
"Mr Gold was a regular visitor to Rush Green and always a source of great support and encouragement to me and the players. It was clear he had a genuine and sincere love for the club and was a true supporter at heart.
"He took a great interest in the people working behind the scenes and was always willing to help in any way he could. He will be greatly missed."
gold grew directly in front of Boleyn Ground – Former West Ham stadium – and played for the club's men's and youth teams.
"Of all our joint ventures, none gave us more pride and happiness than the day we took ownership of West Ham United, our club, in January 2010," said Sullivan.
"David had a long-standing connection to the Hammers, growing up opposite the Boleyn Ground on Green Street and representing the club at youth level.
"He always wanted the best for West Ham United, and his passing is a great loss for all of us."
Both West Ham and Leeds players will wear black armbands during their Premier League match at Elland Road on Wednesday.
Gold was at Birmingham City for 16 years, selling his shares in 2009 before he and Sullivan took over West Ham in January 2010.
West Ham said his acquisition "helped stabilize the ship and protect the club's future during a period of great financial uncertainty."
His tenure at the club oversaw his move to the London Stadium, as well as relegation and subsequent promotion to the Premier League and play in the Europa League.
Outside of soccer, Gold was also president of the Ann Summers retail chain and was previously the co-owner of an adult magazine company and a corporate air service.
Writing on Twitter, Birmingham City said they were "devastated" to learn of Gold's passing.
Tributes to a 'complete gentleman'
West Ham vice-chairman Karren Brady led the Gold tributes on Twittersaying that he was a "great man, a great friend and a complete gentleman".
Former Hammers striker Carlton Cole said: "Mr Gold was one of my favorites at the club.
"He always had time for me and wanted me to win in life. A very kind and caring man."
Former striker Clinton Morrison said Gold "made him feel welcome" when he signed for Birmingham in 2002, while former Blues midfielder Curtis Woodhouse said he had "reached out to try and help" during difficult times at the club.
Premier League chief executive Richard Masters said Gold will "really be missed" for helping to progress the game from his position.
"David has been at the Premier League shareholders' table for over 20 years, both at West Ham and Birmingham, and leaves a great legacy and a host of good friends behind," Masters said.
"David's contribution to the game goes beyond the progress he oversaw at West Ham and includes a huge impact across football and the Premier League itself."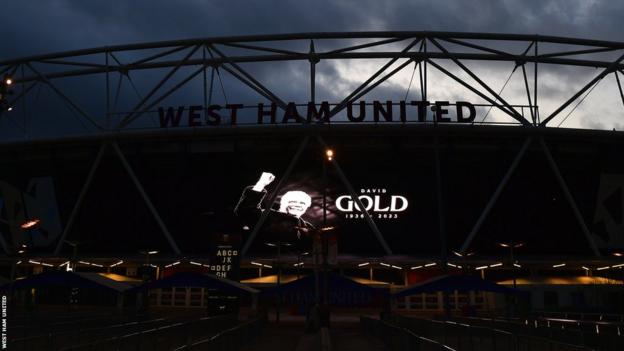 Analysis
BBC Sport's Simon Stone
To the people within West Ham, David Gold will be fondly regarded as a kind and gentle presence, always interested in the welfare of the staff and keen to keep abreast of events relating to the day-to-day running of the club.
An East Ender and West Ham fan to the core, Gold, or DG to those who knew him, was a visual, standing proudly at the London Stadium last September when the statue of Bobby Moore, Sir Geoff Hurst and Martin was unveiled. Peters, looking on in May, when the academy field was named after captain Mark Noble, who retired last season.
I would gladly shake hands, say hello and wish people well. He was a frequent visitor to the Hammers' Rush Green training complex, particularly in the David Moyes era, chatting over lunch with the Scotsman and his staff.
Gold loved West Ham. He always did. He always felt that his actions were in the best interest of the club, even when he was heavily criticized.
He had a tough skin, as every club owner needs, but those who knew him say Gold really wanted West Ham to succeed. At the end of last season, it was a huge disappointment to see the club lose in the European semi-finals, when success was tantalizingly close.
Gold rose from exceptionally humble beginnings, selling buttons out of a drive-thru booth, to becoming president of a company that owned, among other things, the Ann Summers chain, which helped earn him some rather vulgar nicknames.
In business terms, it was a success story.
Clearly, there is another vision.
West Ham fans who are committed to the 'Gold, Sullivan, Brady Out' campaign may not have Gold first in the queue for being responsible for perceived broken promises surrounding the London Stadium move and then a bad or insufficient investment on the gaming side. but still they have been outspoken that the club would be better off under different management.
25.1% of the gold made him the club's third largest shareholder, behind long-time business partner David Sullivan and new investor, Czech businessman Daniel Kretinsky.
Now it will be fascinating to see if those shares stay with the Gold family or if they are sold, and where.