After the controversies Expressions about the health of Florencia Kirchnerthe journalist laura di marco apologized this Tuesday, April 11, to the vice president Cristina Kirchner and his family, through a message spread on social networks. "In the framework of the crack," explained the protagonist of the controversy, "those expressions can be read as an attack and cause unnecessary pain."
The controversial statements of the journalist, who had referred to the alleged "rampant anorexia nervosa" of the daughter of Cristina Kirchner, awakened a wave of indignation in the ruling party, which "reacted" with a complaint against journalists Viviana Canosa and Laura Di Marcoof the Chanel CO+. The initiative was promoted this Monday by the Minister of Women, Gender and Diversity, Ayelen Mazzina Guinazufor "violent, discriminatory and aggravating expressions".
According to the official's statement, the expressions of Di Marco and Canosa "collide with what is regulated in Law 23,592 on discriminatory acts and, on the other hand, configured acts of psychological, political, public-political and symbolic violence based on gender", according to what is established in different articles of the "law 26,485 of Comprehensive Protection of Women".
The origin of the controversy goes back to the statements about Florencia Kirchner made in the program hosted by Canosa (+Viviana), where it was shown pictures posted by daughter of the former president and Néstor Kirchner on their social networks. "Do you see how her body is? I feel very sorry for Florencia, she has galloping anorexia nervosa", began by saying Di Marco.
"Those who study the disease of anorexia, it is lack of motherIt's a lack of maternal nutrition," he said before Canosa's gaze. "Then you say: Who is Christina? She is a very resentful womanthat did not cure his resentment" the journalist had asserted.
Fierce cross between Laura Di Marco and Romina Manguel for the health of Florencia Kirchner
The apology of the journalist Laura Di Marco on Facebook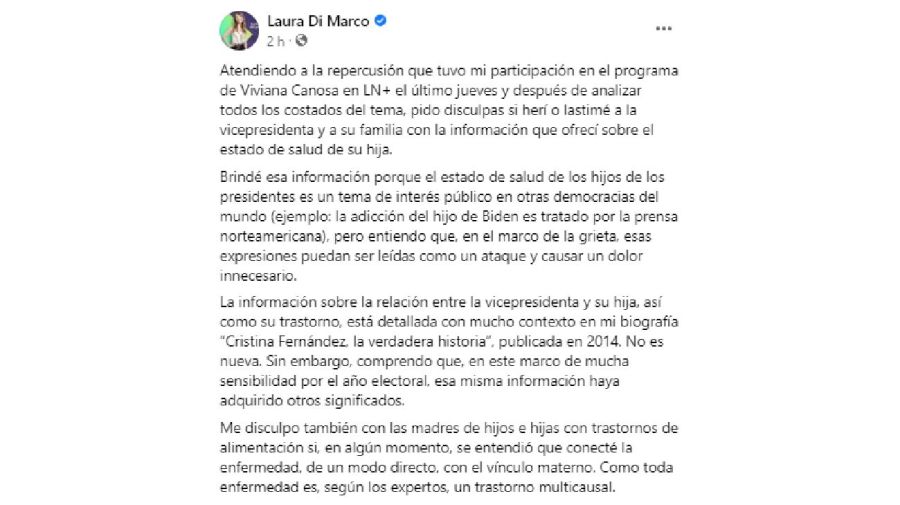 Through her official Facebook account, the journalist publicly apologized for her expressions, which in the context of the crack can be interpreted "as an attack," according to her analysis.
"Given the repercussion that my participation in Viviana Canosa's program had on CO+ last Thursday and after analyzing all sides of the issue, I apologize if I hurt the vice president and her family with the information I offered about her daughter's state of health", detailed Di Marco on Facebook.
"The information about the relationship between the vice president and her daughter, as well as her disorder, is detailed with a lot of context in my biography "Cristina Fernández, the true story", published in 2014. It is not new. However, I understand that, in this very sensitive framework for the election year, that same information has acquired other meanings", consulted the journalist.
In a PRO meeting without Rodríguez Larreta, Macri said he was "disappointed" for "making decisions alone"
"I also apologize to the mothers of sons and daughters with eating disorders if, at some point, it was understood that I connected the disease, in a direct way, with the maternal bond. Like any disease, it is, according to experts, a multi-causal disorder, "he said.
Next, he tried to justify "his slip": "The times of a TV program make it difficult to expand in all these ways."
"I take this opportunity to clarify that I never diagnosed anyone, nor did I stigmatize any body", added. "On the contrary, I have a well-known and long career as an activist for women's rights and for diversity in general, which includes that of bodies."
"Yes, I have been researching psychology and politics for more than thirty years -in fact, it is my personal seal in my books and articles- and, from that place, I analyze and provide documented information," he continued in the Facebook post.
"In the same way that other colleagues analyze, with all legitimacy, the economy and politics, without being economists or political scientists," he specified. "I report, I disseminate, I analyze, which is very different from what was detected."
"I hope these words bring precision to the hearings and reparation to those who have felt hurt," the post ended.
AC/ED