The Formula 1 will have 23 races this seasonwhich is still a record and one more than last year, after deciding not replace the canceled Chinese Grand Prix on the calendar.
The Shanghai race, originally scheduled for April 16 as the fourth of 24 tests, was canceled last month. for the fourth year in a row due to strict local measures to slow the spread of COVID-19.
Formula One said then that it was evaluating alternative options, with several venues being promoted in the media, including the Portuguese circuit of portimaowhich was produced as a replacement in 2020 and 2021 for races canceled during the pandemic.
"Formula 1 can confirm that the 2023 season will consist of 23 races. All existing race dates on the calendar remain unchanged."the agency said on Tuesday.
The teams and their riders for the 2023 season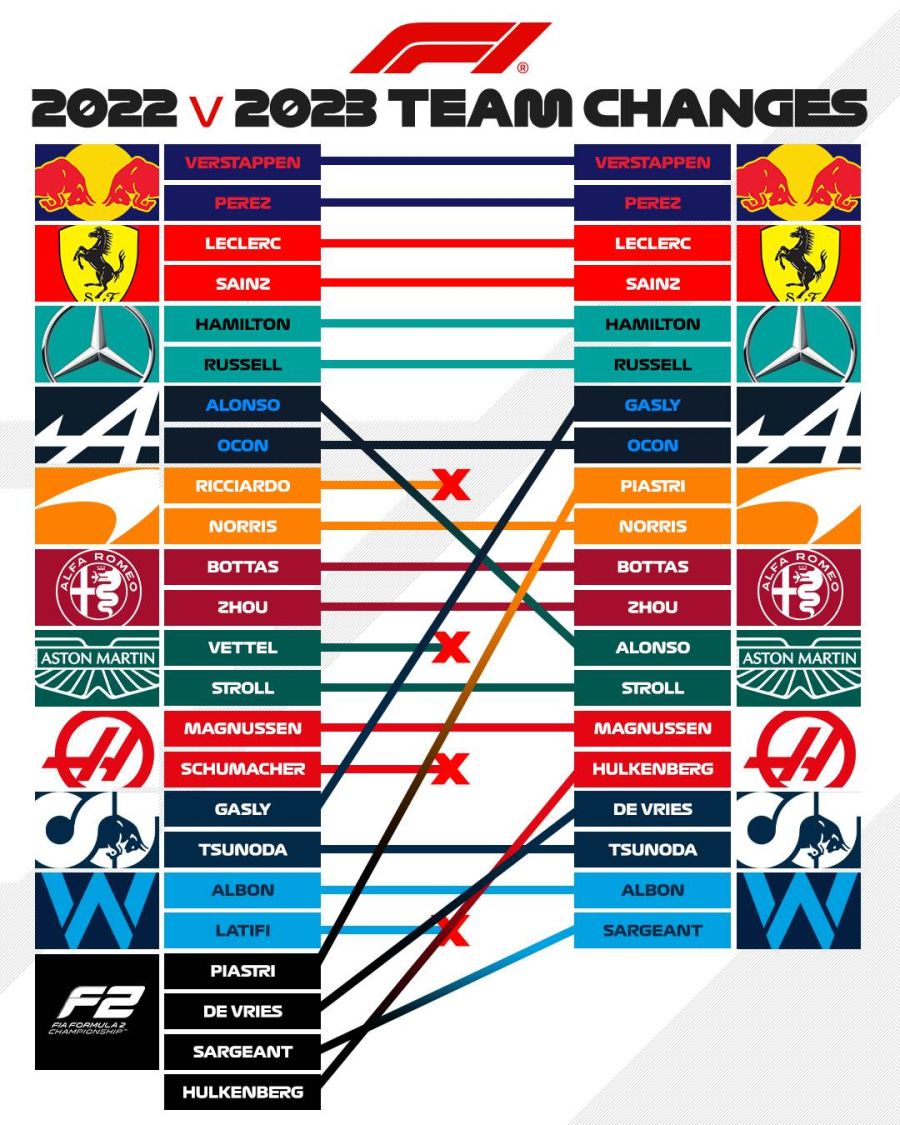 Red Bull: Max Verstappen (25 years old) and Sergio Pérez (32 years old)
Ferrari: Charles Leclerc (25 years old)
Mercedes: Lewis Hamilton (37 years old) and George Russell (24)
Alpine: Esteban Ocon (26 years old) and Pierre Gasly (26)
McLaren: Lando Norris (23 years old) and Oscar Piastri (21)
Alfa Romeo: Valtteri Bottas (33 years old) and Zhou Guanyu (23)
Haas: Kevin Magnussen (30 years old) and Nico Hulkenberg (35).
AlphaTauri: Yuki Tsunoda (22 years old) and Nyck de Vries, (27 years old)
Aston-Martin: Fernando Alonso (41 years old) and Lance Stroll (24 years old)
Williams: Alexander Albon (26 years old) and Logan Sargeant (21 years old).
F1 Calendar 2023
Bahrain GP | March 5, 2023
Saudi Arabian GP | March 19, 2023
Australian GP | April 2, 2023
Azerbaijan GP | April 30, 2023
Miami GP | May 7, 2023
Emilia Romagna GP |May 21, 2023
Monaco GP | May 28, 2023
Spanish GP | June 4, 2023
Canadian GP | June 18, 2023
Austrian GP | July 2, 2023
British GP | July 9, 2023
Hungarian GP | July 23, 2023
Belgian GP | July 30, 2023
Dutch GP | August 27, 2023
Italian GP | September 3, 2023
Singapore GP | September 17, 2023
Japan GP | September 24, 2023
Qatar GP | October 8, 2023
United States GP | October 22, 2023
Mexican GP | October 29, 2023
brazilian GP | November 5, 2023
Las Vegas Grand Prix | November 18, 2023
Abu Dhabi GP | November 26, 2023
Source: NA