The Argentine men's handball team the Gladiatorslost with Netherlands by 29-19, in his debut in Group F of the World Cup in Poland and Sweden.
The match, valid for zone F, was played in the Tauron Stadium from the Polish city of Krakow and ended 14-11 in favor of the European team at the end of the first half. In the second part, everything was more complicated for the national team, in 12 minutes they only scored two goals and the Europeans stretched the advantage even more.
The Netherlands received together with Slovenia the invitation (wildcard) by the ihf in recognition of his rise in the sport and his good performance in the European championship.
The team led by Guillermo Milan Thus began his 14th. consecutive World Cup participation with the illusion of surpassing the historic eleventh place obtained in the last edition of Egypt 2021.
The next match of Argentina in the World Cup Poland – Sweden
The second match will be Sunday 15 against Norway (16:30) and the third and last one in the zone will be played on Tuesday 17 against North Macedonia (14:00).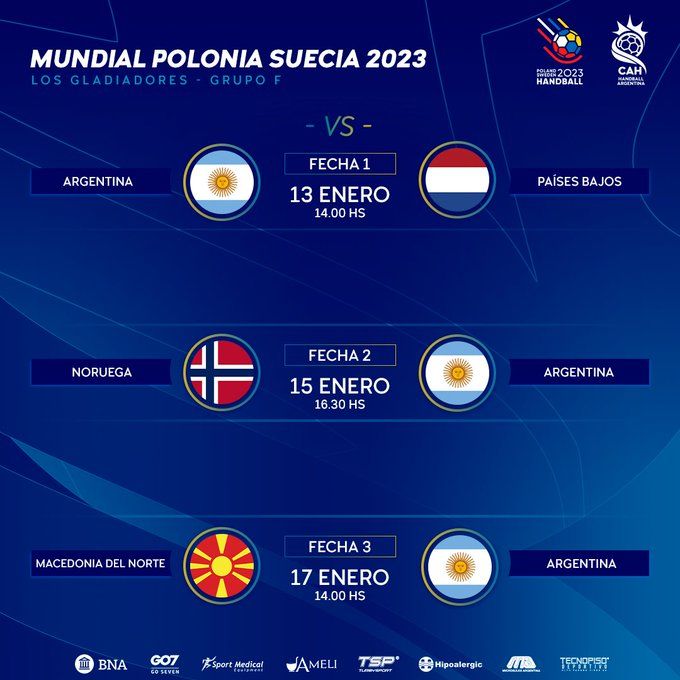 Source: Telam.
Handball World Cup 2023 format
The World Cup is made up of 32 teams, divided into eight groups of four countries each. The The best three from each zone will advance to a second roundin which four other zones will be formed but of six teams.
The The best two from each will advance to the quarterfinals.. from there elimination matches will be played direct to define the champion.
The 19 chosen by Guillermo Milano
Archers: Leonel Maciel (Sporting Lisbon, Portugal) and Juan Bar (Anaitasuna, Spain).
Sides: Federico Pizarro (Cuenca, Spain), Nicolás Bonanno (Anaitasuna, Spain), James Parker (Zamalek, Egypt), Pablo Vainstein (BM Benidorm, Spain), Lucas Aizen (Cangas, Spain), Santiago Barceló (BM Benidorm, Spain) and Fabricio Casanova (Torrelavega, Spain).
central: Diego Simonet (Montpellier, France), Pablo Simonet (Cuenca, Spain), Pedro Martínez (Ward College).
ends: Ignacio Pizarro (Cuenca, Spain), Ramiro Martínez (BM Benidorm, Spain), Facundo Cangiani (Torrelavega, Spain), Francisco Lombardi (Guadalajara, Spain).
Pivots: Lucas Moscariello (Montpellier, France), Gonzalo Carró Castro (Nava, Spain) and Franco Gavidia (TSV 1899 Blaustein, Germany).
Where to watch the 2023 Handball World Cup?
In Argentina, the 2023 World Cup in Poland-Sweden can be seen on the TyC Sports (TV) signal, and TyC Sports Play and YouTube (streaming).