One of the millionaire scandals that Independiente has, in addition to Mexico's debt to America, is the case of Gonzalo Verón. The former soccer player Red is in court with the club over a claim of 6,000,000 dollarsand after several months in silence, you should have talked about it in Clarion.
"It ruined my career, literally. Emotionally, psychologically and the debacle in my career. I came from the United States, I had been in San Lorenzo and had achieved important things. After Independiente, I was stranded in my house and from there all problems were ", he expressed.
Today Veron plays in University of San Martin de Porresof the Second Division of Peru: "Because of the threats, I left the country. Sometimes I want to go back for my family, for my mother, for my brothersbut the truth is that it scares me. I had threats and whores on Instagram, they also send messages to my wife. One is claiming what belongs to him. I see someone with the Independiente shirt and I have to hide so as not to receive insults. Living like this is not pretty".
"I had no talks with the new leadership. There was a mediation recently, but no one communicates with me to resolve this issue. I want justice. I feel very groped. The most absurd thing of all, moreover, is that justice will surely seize the television rights of Independiente, but Almost a month before the elections won by Fabián Doman, Independiente notified the Superliga de Fútbol Profesional that it had ceded its television rights for two years to Jeno SA.. We do not know what this society is. He gave up the rights without any reason. whatHow can it be that no one from the new leadership has raised their voices about this? They are 750 million pesos".
Then he added: "It is striking to us that this appears not to have come up in Doman's audit. It's weird. I insist that this has to end at some point and that justice must clarify the situation. People have to be aware of this." In turn, the footballer said that his arrival at the Avellaneda club was at the request of Ariel Holan.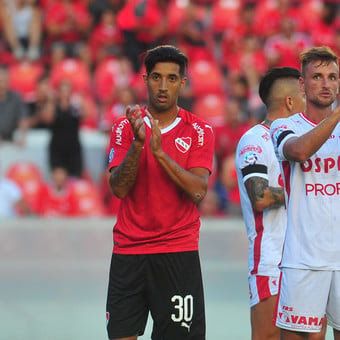 "I got to sit down and talk with (Hector) Yoyo Maldonado (Secretary of Independiente in the Moyano administration). We had several conversations about that debt. He came to give me three checks, but then he asked me to please not deposit them because it was not the time since they could close the account due to lack of funds.. That was at the Hotel Scala where the team gathered, I remember it well. We had to protect it at that time. But the checks expired and they never came back to me," classics.
"This is how debts accumulated and they never paid me. DI decided to go on loan to Aldosivi because of all this conflict that was arising. They (because of the Independiente leaders) have to pay me half my salary and the other half, Aldosivi. They didn't pay me either. I was in Aldosivi for a year and he never received a peso from Independiente. When the contract with Aldosivi ended, I returned to CAI and they fired me in the middle of the pandemic. This is how all the debt began to accumulate, "he closed.
The declaration of dominance in the Verón and Independiente case
"We had a hearing for Verón, it was on December 22. It was Daniel Seoane with the lawyers. It lasted five hours. Independiente made a proposal to pay the debt, the court was surprised by the position of the player and his representative. The court summoned them to a new date in which to explain they do not accept, they were a little surprised, "he said on the program American Independent.
The story of Verón in Independiente
In 2018, the club negotiated with Nazarene Marcollese by the arrival of Silvio Romero, the representative, addressed the name of Verón (he had been released from the new york red bulls of the MLS) and quickly became a reinforcement.
He played only 18 games and scored one goal, in August of that year he went on loan to aldosivi (had to take care of half the salary). In 2019, he was released and started the lawsuit.