Paolo Guerrero was very excited about his move to Racing Club, where he will be for one season and will play three competitions with the Avellaneda club. In addition, he revealed that he had previously had negotiations but that they had not come to fruition.
"What player is not motivated by the fact of coming to Racing? It is a club that speaks for itself. He had already had a previous conversation and it could not happen at that time. Therefore, that it has now happened represents great pride for me," were Guerrero's words about the club.
He also highlighted the support of the fans and the warm reception he was given: "I thank all the people of the club and the group for the reception. I am very happy. Being in Racing for me is a dream. My dream is to make history here in a club as big as this one. And I'm going to prepare myself in the best way possible to be able to try to achieve it."
The former forward of the Peruvian national team explained that he prioritized his physical condition, since last year he was very weak in that aspect and he hopes to give his best on the field: "In the last team I was in, I couldn't prepare myself in the way that I could have wanted physically. That's why now I prioritize that aspect to be able to help the team. What I want most is to be well to be able to perform on the field ".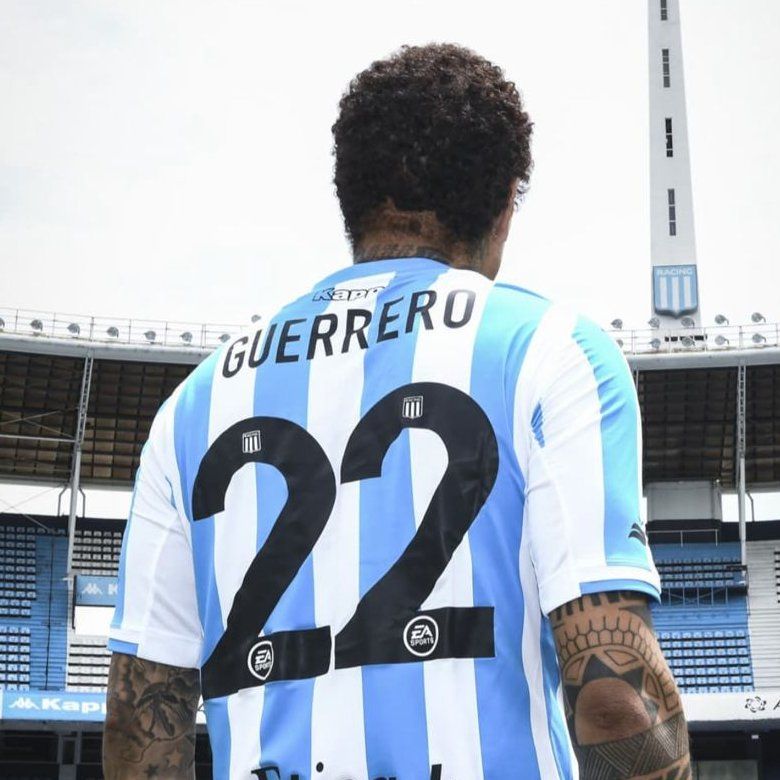 A few days ago, when his arrival at the institution was made official, it was announced that he will wear the number 22 shirt, the one he wore Diego Milito, one of Racing's idols and who was champion on his return to the club that formed him. Given this, Guerrero said that he already knew the number and hopes to be able to honor it: "I know it belonged to Diego Milito and he has a lot of recent history at the club". The last one to use it was carlos alcaraz.
Source: NA
Racing pass market
Heights: Maximilian Moralez (New York, USA), Oscar Opazo (Colo Colo, Chile), Nicholas Reniero (He came back from Argentina), Hector Fertoli (He returned from Workshops), Brayan Alvarez (He came back from Ferro), Ignacio Galvan (Returned from Orlando City, United States), Ivan Gorosito (He came back from Atlanta), evelio cardozo (He came back from Atlanta), juan ignacio nardoni (Union).
Low: eugenio mena (free), Enzo Copetti (Charlotte, United States), Gaston Gomez (Loan to Vélez), Fernando Prado (Loan to Barracas Central), lucas orban (free), alexis neck (free), Mauricio Martinez (League of Quito, Ecuador), Tiago Banega (He returned from the Board of Trustees and went on loan to Arsenal), Nicholas Meaurio (Loan to Guaireñá, Paraguay), alexis neck (Almagro), Fabricio Dominguez (He returned from Defense and Justice and went on loan to Argentinos), Mauro Luque (He returned from Defensores de Belgrano and went on loan to All Boys), Gerardo Alegre Rojas (He returned from FADEP and went on loan to San Miguel), martial christian (He came back from All Boys and goes on loan to San Telmo), benjamin garre (He returned from Hurricane and went to Krylia Sovetov, Russia), carlos alcaraz (Southampton, England) Ivan Maggi (He returned from San Martín de Tucumán and went on loan to Güemes), Leandro Godoy (He returned from Chacarita and went on loan to Uniao Torreense, Portugal).
Racing's debut in the Professional League
The Academy will have its first game in the Argentine tournament being local against belgrano from 7:15 p.m. on Sunday, January 29 and For this match, Aprevide has resolved that there may be a presence of fans.
The team that Gago tested thinking about the debut
Gabriel Arias; Iván Pillud, Leonardo Sigali, Emiliano Insúa, Gonzalo Piovi; Gastón Gómez or Juan Ignacio Nardoni, Aníbal Moreno, Maximiliano Moralez; Matías Rojas or Nicolás Oroz, Maximiliano Romero, Johan Carbonero.