the fishing of trout in it southern cordilleran It is not an activity for a few as is commonly believed, you have to overcome some prejudices and get out of that comfort zone that encourages us to continue doing what we always do and not try new things. Life is only one and you have to try to take all the opportunities that present themselves. Get on the passing trains. That sometimes they don't run our way again. The assistance of a good guide may seem necessary, but in reality it makes things much easier, saving several seasons of learning and also missing out on countless fishing situations.
Invited by the Nahuel Moral fishing organization, we left for the South with the idea of ​​relieving an area that does not usually disappoint, we are referring to the lake Hua Hum Edge (Filo or filu is snake in the language of the original peoples and hua hum, among other meanings, would be cañada or open channel). From San Martín de los Andes you have to travel 27 km along RN 40 to the south and take RP 63 towards Villa Lake Meliquina, Follow this route for about 27 km until you pass the metal bridges over the Meliquina and Filo Hua Hum rivers, and head west on the RP 64 detour, along a little more than 7 km of dirt road until you reach to the western head of Lake Filo Hua Hum. In this area, motorized navigation is not allowed, so to navigate its waters and fish it must be from boats, rafts or belly boats. The ideal is to do it on days that are not too windy, have good oars and a good rower, or else go along its coasts and wade through the points where you can access it on foot, especially the interesting mouth of its tributary –the Filo Hua Hum river– in the West sector, with the possibility of walking the river upstream, which is also an excellent fishing ground.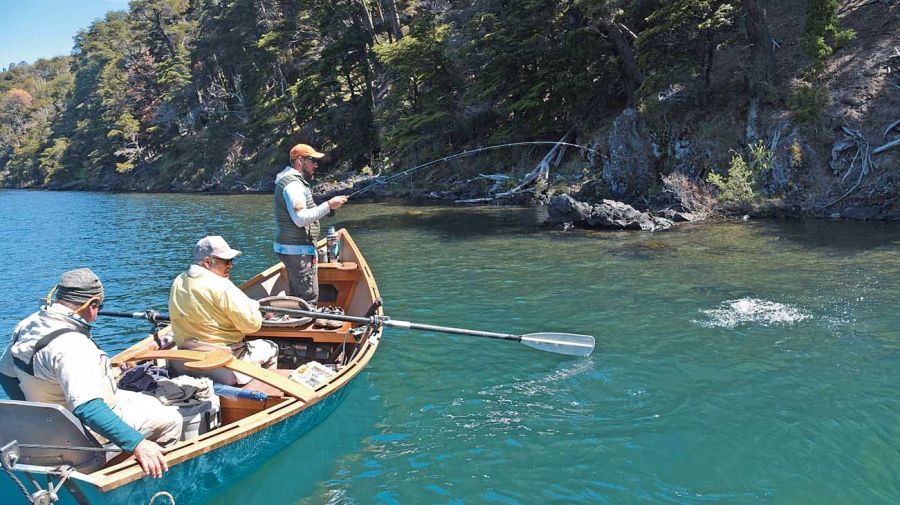 In our case we decided to leave the mouth area which also usually presents interesting hatchingsand start navigating the lake towards the walls of the north coast, which are usually more profitable early in the morning since the shadow cast by the steep slopes and the vegetation makes the shores darker and more friendly for fish, which feel more protected and safe than when the day progresses and full sunlight invades the crystalline waters, exposing them.
casting even
One helmsman and two launchers per boat make a good team. Ideally, both will have anglers an even cast so that the location of the boat with respect to the coast is comfortable for both of us. If they are both right-handed or both left-handed, the location in the bow or stern is indistinct, now if both throw with different hands, the ideal is that they should be located leaving the throwing arm on the water side, it is more comfortable and less dangerous, since the flies will fly over the water and not over the boat.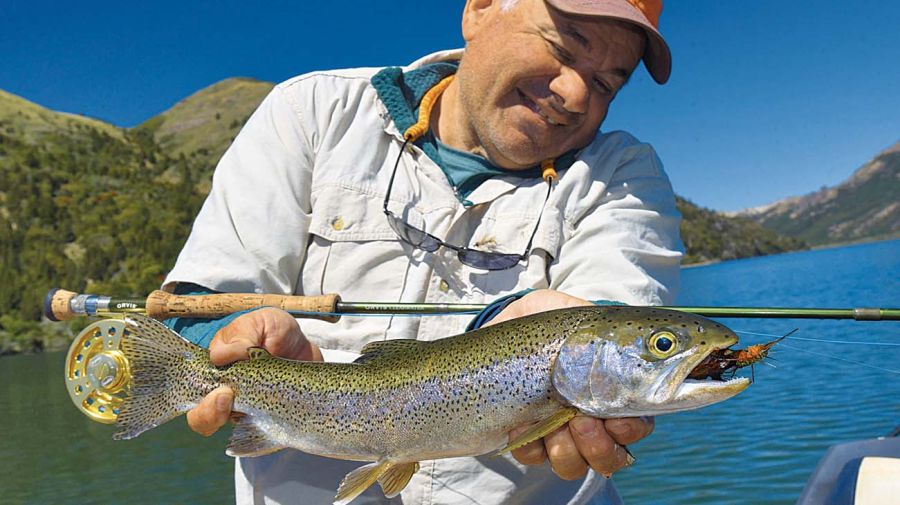 The trout in this season –which snowed so much and the water is still higher than other years– they are down and to get there it is necessary to use: # 6 rods, sinking lines, streamer-type flies mounted on #4, #6 and #8 weighted hooks (with chain eyes, metal heads or lead wire on the shank of the hook on its clothing), leaders of no more than 6 feet that drag the fly better towards depth. Although weighing down the cast is a bit complicated, reaching as deep as possible quickly is appropriate. There are many pancoras in this area –especially in areas with rocky bottoms– and using flies that imitate them in size and color is a way of fishing with a good chance of success.
stuck to the edge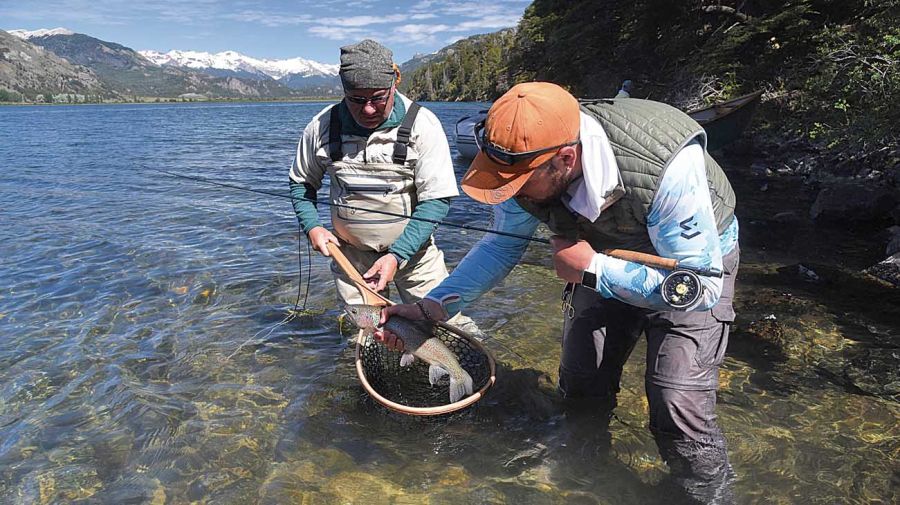 The idea is to navigate traveling parallel to the walls and throw towards the banks, that the fly will probably fall stuck to the edge and strip quickly As soon as it falls, this generally triggers bites since the fish tend to be very attentive to that first strip of water, because of the small fish that move around and because of the organisms that can fall from the shore into the lake. In this way we were able catch a couple of cute browns and three rainbows in a stretch of about 200 to 300 m of coastline.
In the constant and tireless search that is fishing, we were prospecting shores and rocks, changing flies, cadences and recovery speeds, and also depths. Passage casting is practiced, precision and is dealt with at times with patience and frustration. As it happens in life. Until a bite, in that primal paradise without connectivity or distracting technologies, suddenly takes us out of the monotony and returns us to a present of adrenaline and excitement. Like the surfer who waits for hours for a good wave and enjoys it for only a few moments. That peak of emotion, that magical present, that wild, vital and shiny trout justifies everything.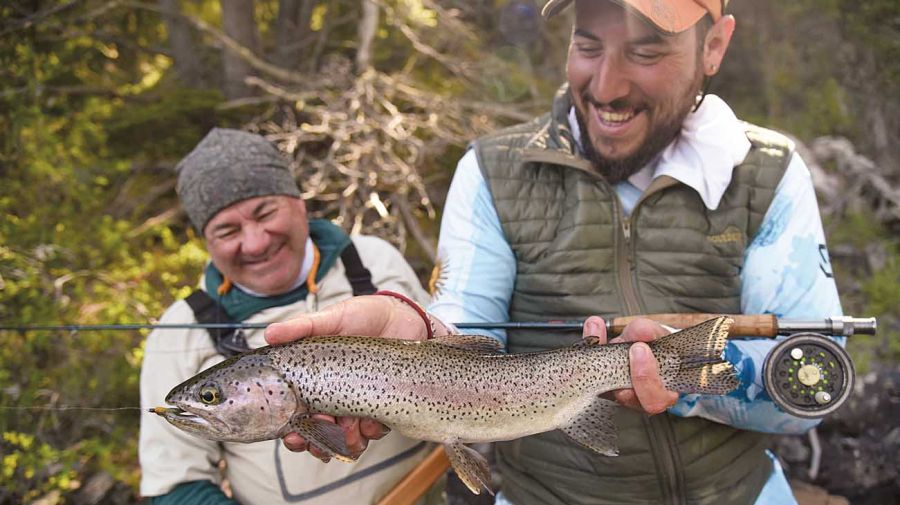 The area to which we sailed is known as La Laguna, an interesting bay lined with reeds and with a lot of fish activity that was even perceived to be active on the surface. over there the flotation lines came out and, with the same equipment #6 and some #4, we tried fishing with nymphs and dry. Having Caddis imitations in size #14 in the box is having a good key to open the pit door. All that tail of the lake usually surprises with some hatching of Caddis and you have to be attentive and prepared. In addition to the small and effective Elk Hair, you should try a larger dry one that tempts a good trout to come up. Dragon Fly, Chernobyl Ant, Grass Hopper or Fat Albert go well. Y a very interesting and versatile fly –That went very well with the rainbows– was the Stimulator. Regarding nymphs, one that gave us more than one sting when launching near the most vegetated sectors (with reeds and algae) was the Dragon Nymph, picking it up with short and slow stripes, and every once in a while alternating a fast and long pull, as they usually use these insects. When there was an impasse in the pique we took the opportunity to disembark on that shore and enjoy a delicious lunch and a short nap in the Paraguayan hammocks. Pleasures linked to fishing and very rewarding.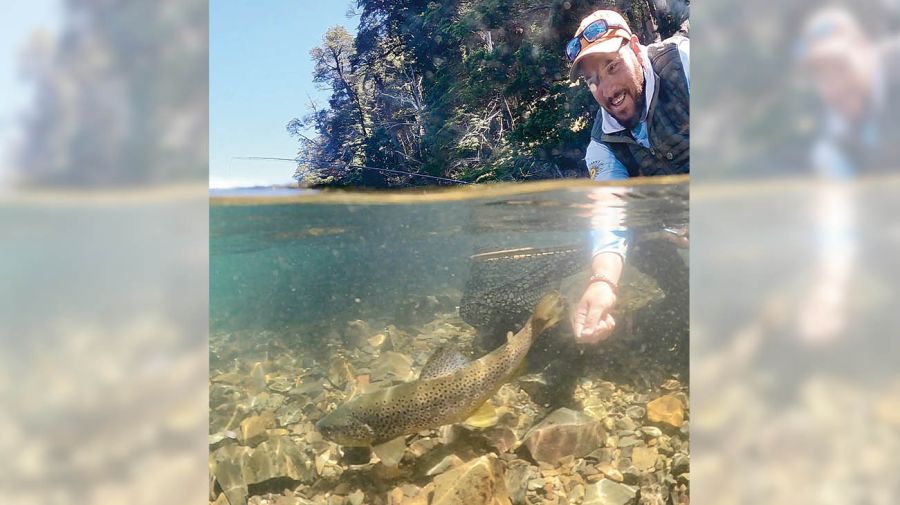 The mouth and the Parthenon
In the afternoon we sailed to the vicinity of the outlet of the Filo Hua Hum river and, at that mouth, we acted with estrimers like Zonker, String Leech and olive and black Woolly Buggers, flies that are usually very good in the lower area with waterlines or with the same strimmers and sinking lines in the deep edge of the mouth, casting and letting the set down quite a bit before starting to recover. The southern arm of that mouth is well calmed (some call it Quiet and its name on charts and maps is actually Parthenon) slow waters with spring creek characteristics, very interesting and can bring big surprises. It is worth spending time on it and trying to unravel its secrets.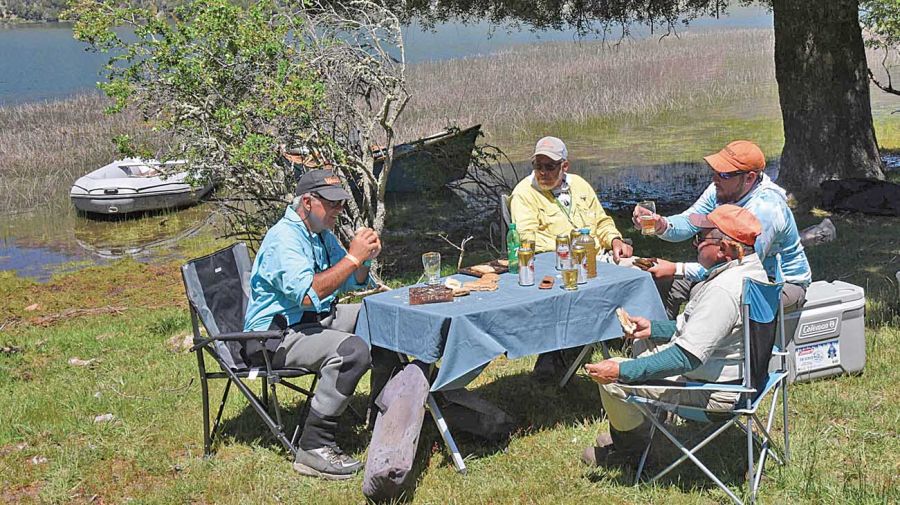 This is fishing in the southern Andes, an activity that leads us to face complex situations, solve problems and go through different labyrinths at every moment. It makes us learn by trial and error, success and frustration, observation and analysis. It transports us to fantastic places and live strong experiences. Achieving and living things that would never have happened if one day we had refused to get on that train of exciting opportunities.
area map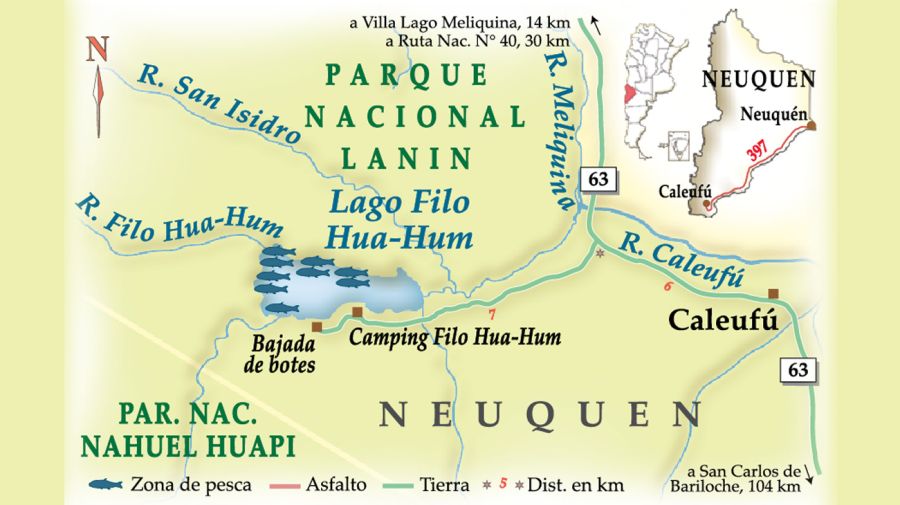 Fishing trips: Nahuel Moral, Instagram: @nahuefly, Cel.: (02944) 202592.
Fishing, outdoor and camping items: Örök Outdoor / Fly Shop, Instagram: @orok_outdoor, Av. San Martín 713, Local B. Cuenca: the chain of lakes that supplies water to Filo Hua Hum begins in Villarino, passes to Falkner , to the New and, finally, the Hua Hum River.