This Wednesday morning a helicopter crashed on the outskirts of kyiv, the capital of Ukrainenear a kindergarten and 18 people were born, including Interior Minister Denys Monastyrsky and three children.
The possibility that the tragedy was the result of a russian attack, but no recent attacks were reported in the area.
Monastyrskyi, 42, the country's top police and emergency services official, became the Ukrainian official of mayor rank who passes away since the beginning of the invasion Russia almost 11 months ago.
the Ukrainian President, Volodimir Zelensky described what happened as a "terrible tragedy". "Today, a terrible tragedy occurred in Brovary, kyiv region. A state emergency services helicopter crashed and a fire broke out at the crash site," the president wrote via Telegram.
18 dead and 22 people injured
"For now we are considering all possible versions of the helicopter crash," the country's attorney general, Andriy Kostin, said on Telegram.
The deputy interior minister, Yevhen Yenin, and the secretary of state, Yurii Lubkovych, also lost their lives in the accident; who were found aboard the helicopter, according to the police report.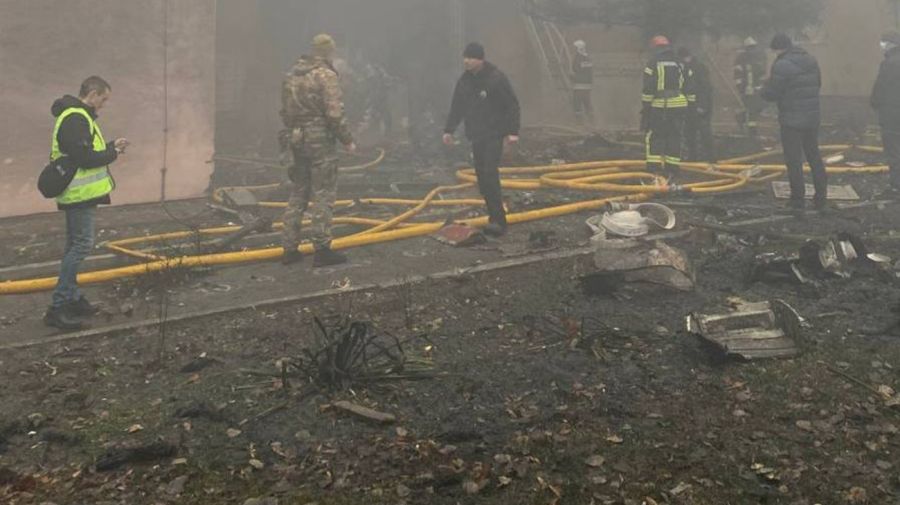 The governor of the region, Oleksiy Kuleba, detailed: "The information about the victims and the circumstances (of this accident are) being elaborated." "At the time of the drama, there were children and employees in the nursery school," Kuleba said.
For her part, a spokeswoman for the Ukrainian police for the kyiv region, quoted by Suspilné public television, said that "a fire broke out" at the time of the tragedy.
Ihor Klymenko, head of the National Police, added that nine of the deceased traveled aboard the emergency services helicopter and that, in total, 22 people were injured, including 10 children.
JP/ff